Mar 16, 2017 by Service Direct
IE3 is the nation's largest organization of HVAC and plumbers and features the opportunity to learn from industry professionals. Bohn is joined by Google's Director of Mobile Search, Ryan Warrender, as we speak at a panel on the future of contractor marketing.
We sat down with Ryan Bohn to find out what you can expect from our panel.
HVAC Marketing Woes.
Marketing can be tough as an independent contractor. We asked Bohn what he hears from our HVAC contractors as their biggest complaint about marketing. Their answer? "We have been burned so many times by marketing companies."
Spending money on marketing can be risky business especially when some companies are out there just to take advantage of a desperate contractor in need of leads. In a panel that focuses on HVAC Marketing presented by Google, Bohn will discuss the common complaints from our own HVAC from their past experiences, but more importantly will be discussing how Service Direct gets it right.
"[Service Direct] focuses solely on being performance based. Take things to the point of actually establishing contact with an actual customer before we can even come close to billing you. Even after that we record the call for total transparency this way even after contact is made it must be qualified. With our marketing platform you can't be taken advantage of."
HVAC Marketing Essentials.
There's no such thing as a one size fits all marketing strategy. That said, there are certain behaviors and tactics that are vital to the continued growth of your HVAC company. In this part of the panel, you'll hear how Service Direct is a silent part of your customer's journey and how we measure success. We'll also discuss how HVAC marketing has changed over the last decade, what that means for your current strategy, and how Service Direct can help.
The Future of Digital Marketing.
As technology advances at a rapid pace, more avenues are available to get your name and services in front of potential new customers. The key to a successful digital marketing campaign is to remain up to date on those latest trends and changes.
The panel, running during IE3, is presented by Google, and Bohn will touch on the ever changing landscape of digital marketing and where technology is seeming to lead for its future. When asked what he sees in store for the future of digital marketing, voice search is the next big thing, but warns to not forget about the success and availability of Google.
"I'm really interested to see where things go with voice activated search such as Google Home, Alexa, & Siri. There is also this thing called Google that has created a modern day advertising platform that is just too big to fail. I honestly think that Google will ensure a healthy competitive space for people to advertise effectively. People want options so I don't see things being really drastically different for some foreseeable future. Reviews are important too which Google also facilitates."
You'll also get to hear how Service Direct's partnership with Google and other marketing platforms helps us focus on helping our clients to be found. Plus, Warrender has a special presentation on how smartphones are changing the way customers interact with your business.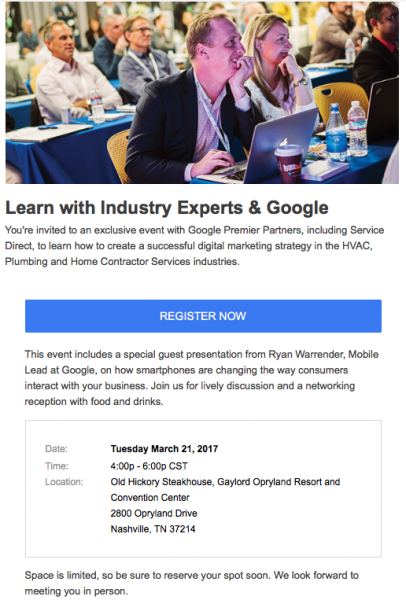 Food and drink is provided, but space is limited, so make sure to sign up now! We can't wait to meet you in person!