Oct 25, 2017 by Stevie Valle
"If you think your podcast is for everybody, it's not for anybody."

- Todd Nevins
It's no secret that content marketing can bring you new traffic to grow your client base and raise brand awareness. What is still up for debate seems to be the best way to organize your content, what content mediums are most effective, and how to tie it all together. At Service Direct, we've even spent some time discussing our take on social media, email marketing, and running a blog for your business.
Last week Laura Lorek, founder of Silicon Hill News, held a conference at Galvanize Austin called ContentATX with speakers discussing everything from SEO tactics, to turning your passion into a business through engaging content. Our content team had the opportunity to attend and absorb industry leading knowledge on telling a good story, promoting your content, knowing your audience, trying new content mediums, and finding the right partners for collaboration.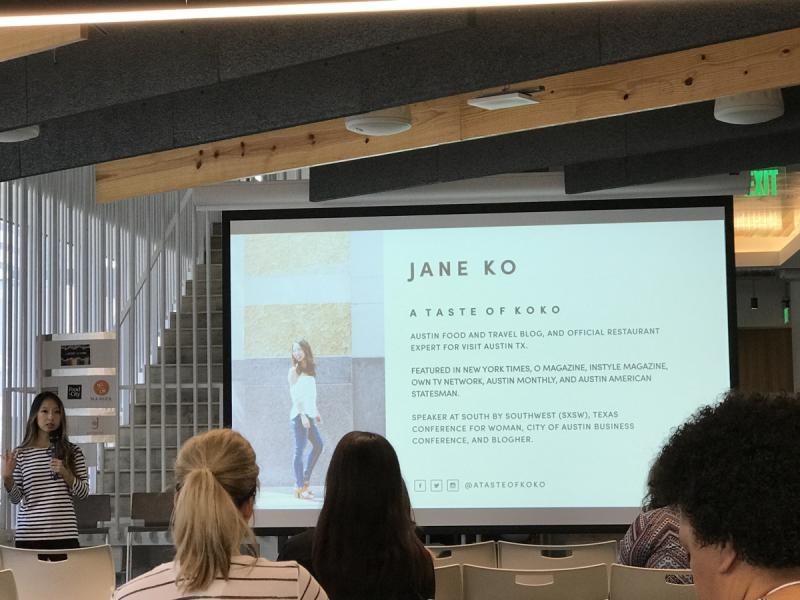 Storytelling.
No matter who was speaking, the most common theme throughout each presentation was storytelling. Your audience doesn't want to feel like they are being sold when they visit your content, whether it's your Instagram page or your company blog. From food blogging to small business tips, whatever your niche, bringing your story to life using descriptive writing or aesthetically pleasing design is a must.
Jane Ko, creator of popular food blog A Taste of Koko, spoke on her success running a small food blog as a hobby to turning it into a full-time business. She attributed a lot of her success to having an authentic voice with distinct branding. Using both her blog and Instagram, Ko appeals to the emotion of her target audience through brightly lit and colorful photographs, behind the scenes Insta Stories, and descriptive language that captures her emotions while trying a new dish or dining at a new restaurant. It's this emotional storytelling that has garnered her around 50k followers across her social media platform and established her blog as the go-to site for Austin tourism and restaurants. More importantly, this tactic can be applied throughout nearly any niche.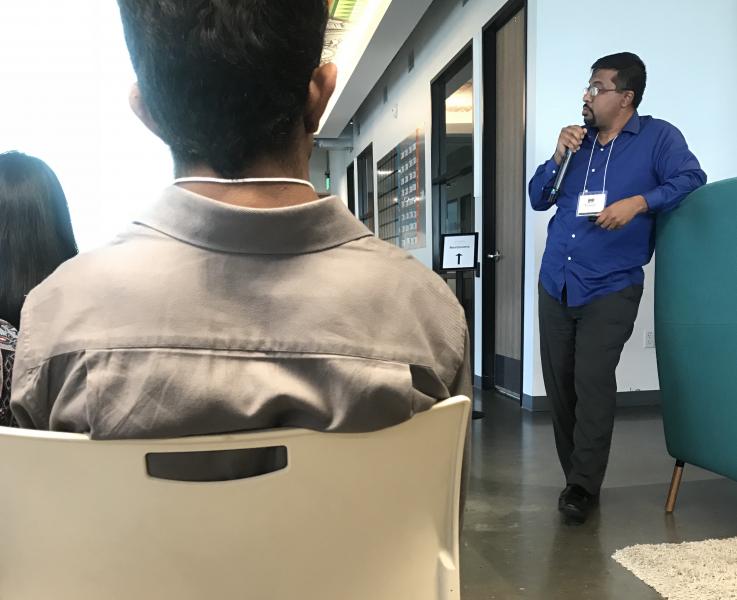 Promote Your Content.
As content producers, we've all heard a million times that promoting your content is a vital piece of its success. However, promoting your content effectively is often misunderstood or neglected by many business bloggers. Throughout various talks on long form content, a general consensus was reached that having a solid plan in place to promote your content after it's posted can be the difference between going viral and only getting traffic from your inner circle.
In a discussion on SEO lead by digital marketing specialist Yusuf Chowdhury, he stressed that even though on-site SEO is critical to helping your ideal audience reach your site, the time spent promoting your content should make up around 70% of your optimization efforts. Yusuf, as well as other speakers like PR Specialist Jo Detavernier, stress that you should be exploring promotional efforts beyond social media such as press releases, repurposing your content into infographics, podcasts, or videos, and engaging industry leaders who may want to share your content.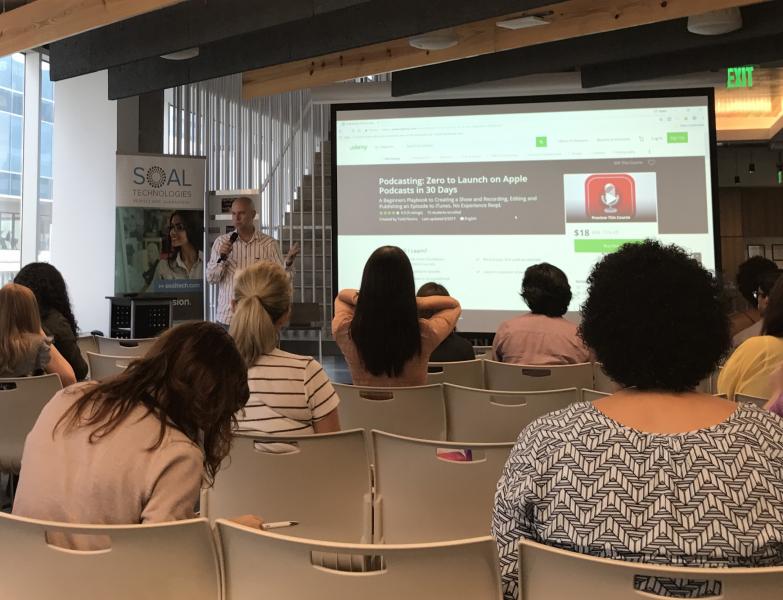 Know Your Audience.
Do you know who is visiting your website? Are they who you want to visit your website? If your content isn't targeting the right people, your content production efforts could be considered wasted. Though our presenters specialize in a variety of content mediums, what is clear is the commitment they have to researching their ideal audience and making sure their content speaks to them.
In each talk, our presenters emphasized the need to know your audience and make sure you're speaking their language. Podcast coach Todd Nevins said of audience targeting, "If you think your podcast is for everybody, it's not for anybody." Just as you wouldn't try to communicate in English with someone who only speaks French, before you can even begin to create a compelling story, you have to get to know your audience and speak to them in a way that resonates with them.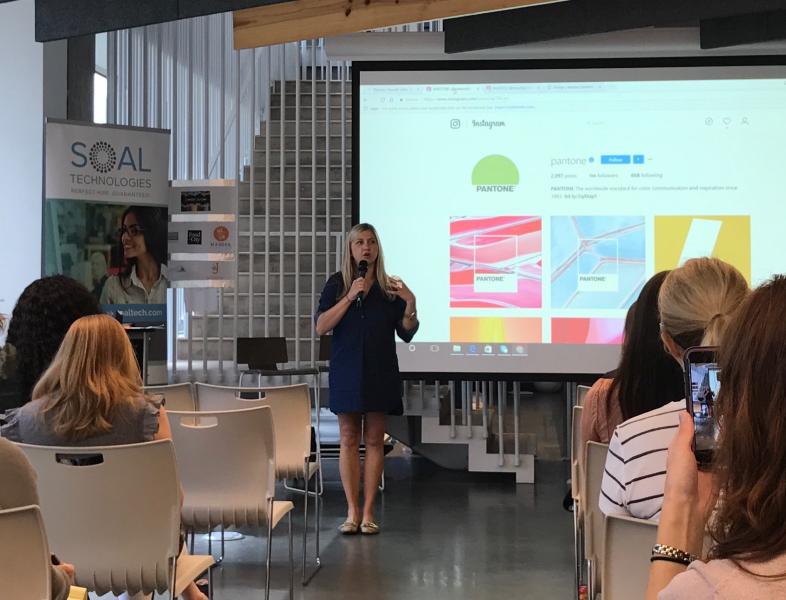 Don't Shy Away From New Mediums.
As technology evolves, so too does the way we communicate. Staying on the cutting edge of technology and engaging your ideal audience where they spend most of their time was a key takeaway repeated throughout each presentation. While most speakers didn't recommend you spend time on every available content medium, trying new emerging technology is a great way to engage your audience in a different way.
In another talk by Yusuf Chowdhury, he discussed how live streaming through channels like Facebook Live presents a unique way to engage with your audience in real time. Social media expert Andrea Genevieve spoke the power of photos on sites like Instagram as a content medium. No matter which new platform you try, Jane Ko reminded us all to focus on setting up a good A/B testing plan to gather real time feedback about what works and what doesn't with your audience.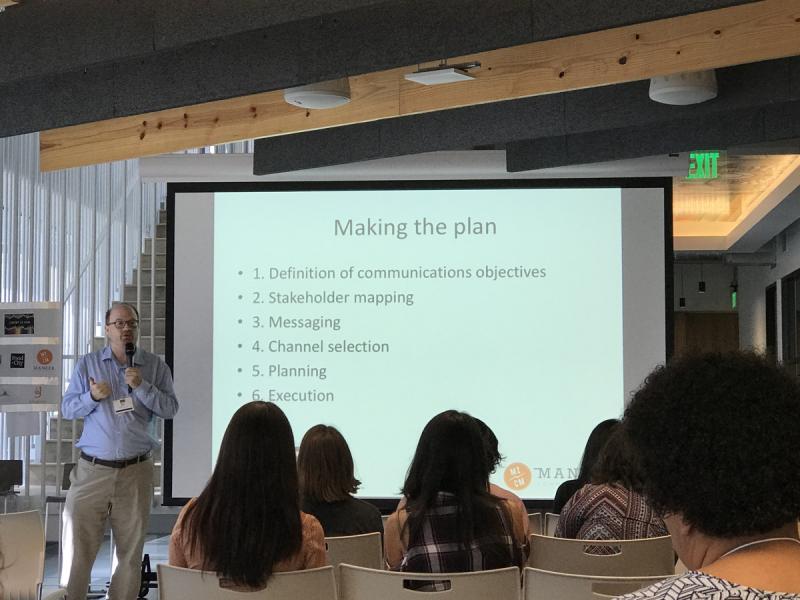 Partnerships, Sponsors, and Influencers.
According to our presenters, if you really want to grow your online presence and put your business or personal brand at the forefront of your target audience, finding relevant partners, sponsors, and identifying potential influencers should be one of your main goals. A solid partnership with another leader in your industry can bring in a new audience or help you tap into a group of people you wouldn't otherwise be able to reach. Finding the right sponsor can help you gain credibility among your audience and peers while generating a new source of income for your business. Just keep in mind when speaking about a sponsor in your content, the most important thing to remember is to remain authentic.
An emerging source of growth lies in micro influencers. Jane Ko describes a micro influencer as an active social media user who has more than 10k followers, but less than 50k. They are present in conversations in your industry and are not hesitant to promote products or services they love with great fervor. Jane herself is an influencer and has earned sponsorships with brands such as Sony, Ikea, and the Miami tourism department. Identifying and engaging micro influencers in your industry can significantly boost traffic to your site and put your product or service in front of thousands of potential new customers without costing you a dime.
As content creators ourselves, we are grateful for the knowledge and insight provided by the amazing speakers at this year's ContentATX conference. Thank you to Laura Lorek for organizing such an impactful meeting of the minds in today's content creation and thank you to all the amazing speakers: Jane Ko, Yusuf Chowdhury, Todd Nevins, Michelle Breyer, Andrea Genevieve, Jo Detavernier, and Laura herself!
Did you attend ContentATX 2017? Tell us what you thought in the comments below.