Feb 08, 2018 by Ty Alyea
For large parts of North America, the winter storms of late 2017 and January 2018 will be long remembered events. Seasonal weather changes typically lead to a rise in demand for heating technicians, plumbers, and water damage professionals; however, they can also make for very competitive environments as well. At Service Direct, we make sure our clients get lots of quality leads by researching seasonal trends and proactively optimizing accounts.
As we approached this winter, weather forecasts on the upcoming season were mixed; while some emphasized that the winter would be "not so frightful" [CNN], the National Oceanic and Atmospheric Administration (NOAA) nonetheless mentioned that a strong probability that much of the country could experience colder than average temperatures.
To make sure our ad campaigns were ready for anything, we spent the autumn months updating winter-sensitive ad campaigns and verifying our clients' ads were appearing for people interested in their services. Beginning in mid-late December, when strong Arctic air masses stretched as far south as the Caribbean, blanketing regions with a frigidity that didn't abate 'til well into January.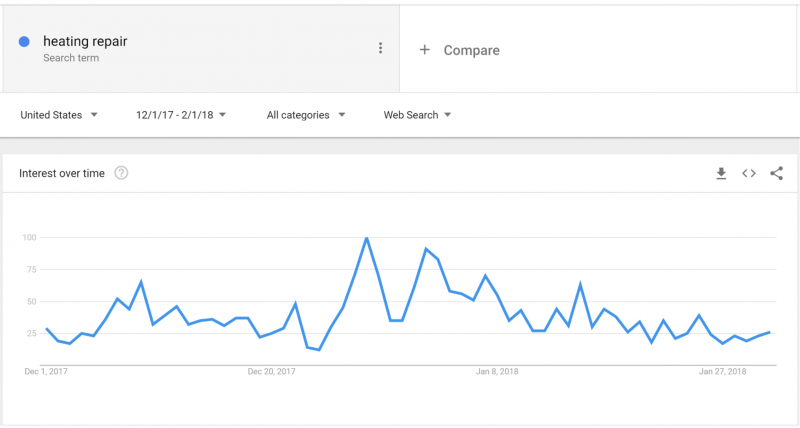 (Source: Google Trends: "Heating Repair" Dec 1, 2017 - Feb 1, 2018)
These extreme cold fronts, along with the Northeastern "bomb cyclone," led to an explosion of demands for home services, burst pipes, heating repairs, boiler installations, and water damage repair.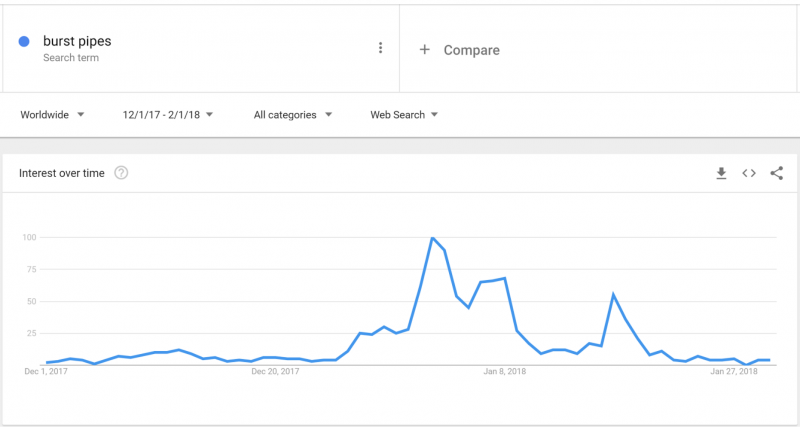 (Source Google Trends: "Burst Pipes" Dec 1, 2017-Feb 1, 2018)
This kind of volatility can create lots of opportunities for getting our clients in touch with service-seekers. By responding to these conditions, we were able to boost lead flow for winter-sensitive ad campaigns this January by 23-47%, compared with January 2017.
In light of our successes with this recent round of seasonal optimizations, we are looking forward to meeting demand for a wide range of services in the coming months; for even though this winter broke weather records in a number of cities [Weather Channel], the cumulative demand for heating repair services this winter was dwarfed by the demand for summer-intensive services like air conditioning repair last summer. No matter what industry our clients are working in, we will be hard at work making sure our clients' advertising strategies are ready to meet shifts in demand, because Service Direct's commitment to connect service providers with clients is always in season.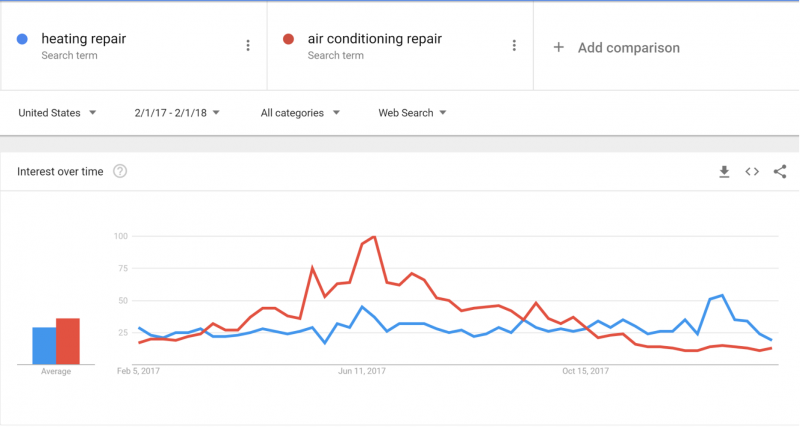 (Source: Google Trends: Heating, HVAC, and Air Conditioning Repair Searches from Feb 1, 2017 to Feb 1, 2018)
Do you want to be sure that your company is ready to take advantage of rising demand for your business this spring and fall? Give us a ring at (877) 978 1099